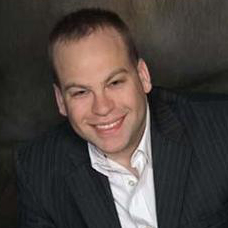 Veggie Teriyaki Stir-Fry with Noodles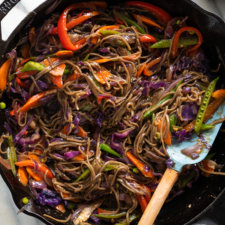 Make this quick and delicious vegetarian stir-fry with noodles for dinner tonight! It's a healthier spin on take-out that is easily made vegan and/or gluten free (see notes). Recipe yields 4 main dish servings.
Order now & get it delivered today!

---
INGREDIENTS
•
4 ounces soba noodles, brown rice noodles, spaghetti or long noodle of choice
•
2 tablespoons extra-virgin olive oil or avocado oil
•
1 medium red or white onion, halved and thinly sliced
•
1/2 teaspoon fine sea salt
•
6 cups thinly sliced mixed vegetables*
•
1/2 cup teriyaki sauce, or more as needed
•
1 to 2 teaspoons toasted sesame oil, to taste
•
1 teaspoon sesame seeds, plus more for garnish
•
1/4 cup thinly sliced green onion, for garnish
---
DIRECTIONS
➊
Bring a pot of water to boil and cook the noodles until al dente, according to package directions. Drain and rinse well to remove any excess starch. Set aside.
➋
Meanwhile, warm a large skillet over medium heat. Add the oil, onion and salt. Cooking, stirring occasionally, until the onion is tender, about 4 to 6 minutes.
➌
Add the remaining vegetables and cook until they are tender and caramelizing on the edges, stirring every minute or two. Given the volume of vegetables, this will take about 10 to 15 minutes.
➍
Once the vegetables are done, add the noodles and 1/2 cup teriyaki sauce to the pan. Stir to combine, and cook just until the ingredients are all warmed through, about 1 minute. Feel free to add more teriyaki sauce if you like your noodles extra-saucy.
➎
Remove the skillet from the heat. Add toasted sesame oil, to taste (a little goes a long way/toss with tongs if you need help mixing the noodles into the veggies). Add the sesame seeds.
➏
Serve the noodles in bowls with sliced green onion and a little sprinkle of sesame seeds on top. Leftovers keep well, covered and refrigerated, for up to 4 days.
More Collections by
David
About
Snips is the first performance-based influencer marketing platform that empowers influencers with business tools to grow their audience and monetize their social networks, while enabling brands to run performance-driven influencer programs built on true measurability & scale.