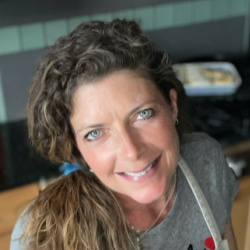 Gluten Free Italian Taralli Cookies Recipe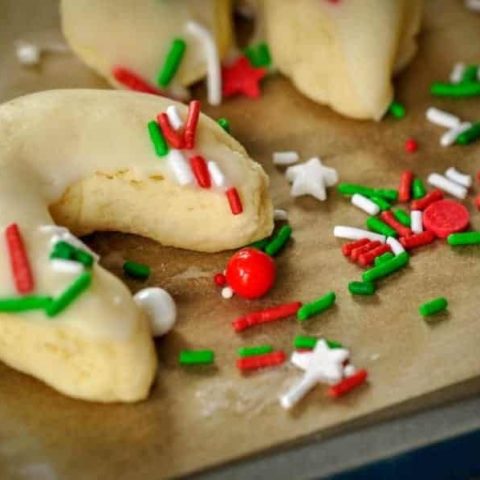 These traditional Italian Taralli Cookies are festive for Christmas, Easter or any time of year you want to celebrate with a not-too-sweet cookie and sprinkles!
---
INGREDIENTS
•
1 cup butter or vegan alternative (e.g. Earth Balance Buttery Sticks) - 2 sticks
•
1 cup granulated sugar
•
3 eggs
•
1 Tbs. pure vanilla extract (OR 2 tsp. pure vanilla extract + 1 tsp. almond extract)
•
1 tsp. lemon extract (optional)
•
3 1/2 cups (472 gr) gfJules Gluten Free All Purpose Flour
•
1 heaping Tbs. baking powder
•
3 1/2 - 4 cups (1 lb box) confectioner's sugar, sifted
•
2-4 Tbs. lemon juice (juice of 1-2 lemons)
---
DIRECTIONS
➊
Preheat oven to 375 F.
➋
Beat butter and sugar together until lighter and fluffy. Stir in eggs, extract and zest, if using.
➌
Whisk together gfJules Flour and baking powder in a separate bowl. Slowly stir into sugar mixture until fully incorporated. The dough will be thick but not too sticky.
➍
Line a baking sheet with parchment paper.
➎
Scoop tablespoons of dough and roll into logs on a clean counter or pastry mat lightly dusted with more gfJules Flour if necessary, to prevent it from sticking. Bend the logs into a crescent shape or form small donuts with the dough. Lay on the prepared baking sheet, leaving 1 inch between cookies to allow for spread during baking.
➏
Bake for 12-15 minutes, or until they are lightly browned on the bottom. Remove to cool on a wire rack without removing from pan.
➐
Once cool, prepare glaze by whisking lemon juice into sifted powdered sugar until it's of drizzling consistency but not too thin. Add more sugar if too thin; more juice if too thick.
➑
While glaze is wet, sprinkle tips of each cookie with gluten free sprinkles for decoration.
About
Snips is the first performance-based influencer marketing platform that empowers influencers with business tools to grow their audience and monetize their social networks, while enabling brands to run performance-driven influencer programs built on true measurability & scale.